Tuesday, September 19, 2017
So, Trump war right about being wiretapped.
Climate change poses less of an immediate threat to the planet than previously thought because scientists got their modelling wrong, a new study has found. New research by British scientists reveals the world is being polluted and warming up less quickly than 10-year-old forecasts predicted, giving countries more time to get a grip on their carbon output.
The story in the UK Telegraph is correct is asserting that the "climate models" are wrong, but falls into the trap of assuming that burning carbon fuels is causing global warming. Not only are the models wrong, but the basic premise is wrong. The earth's climate is always changing but man has nothing to do with it. We could not change the climate if we wanted to and could not stop the climate from changing if we tried. Those are forces beyond our puny might: the power of the sun and the might of the earth's natural evolution is nothing we can affect at this stage of our development.
At this point, climate change is an article of faith, not of science.

See:
Massive Arctic Ice Gain Over The Past Five Years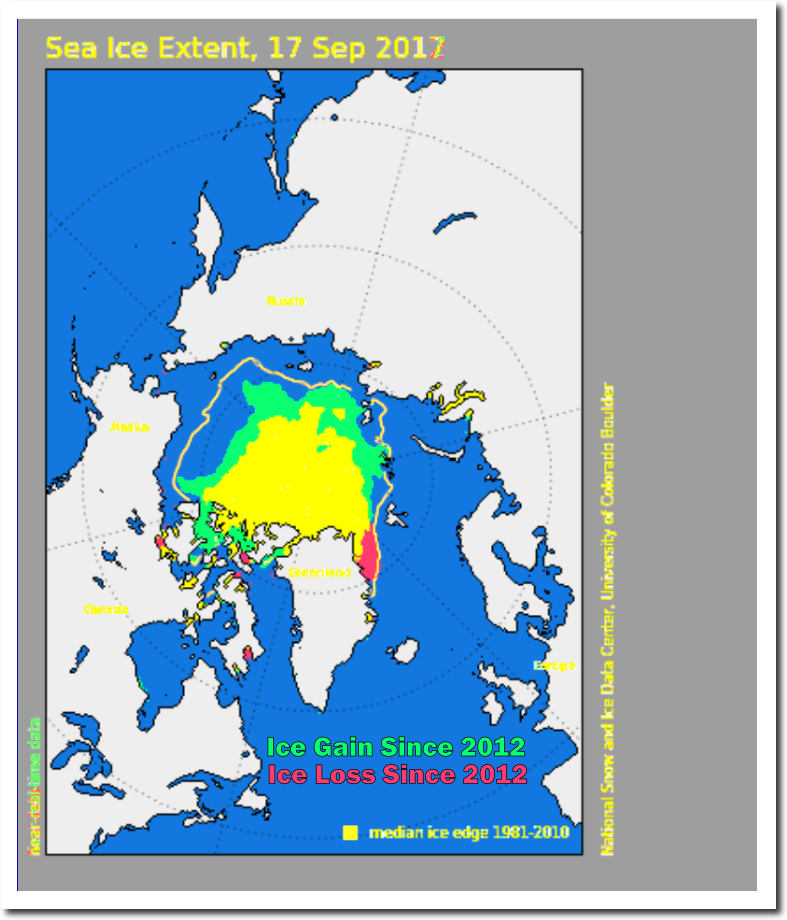 Read the whole thing, including the predictions of total loss of glaciers from the 1930s.
Labels: climate change religion
Monday, September 18, 2017
Saturday, September 16, 2017
Friday, September 15, 2017
Speech that costs $15,000 to protect you from Democrats with baseball bats is not free
Thursday, September 14, 2017
Remember this?
Alternative facts
Tuesday, September 12, 2017
Trump does what people want. Outrage ensues.
Monday, September 11, 2017