Monday, April 29, 2019
The Day Collusion Died
Tim Wise gives lectures on diversity.
Saturday, April 27, 2019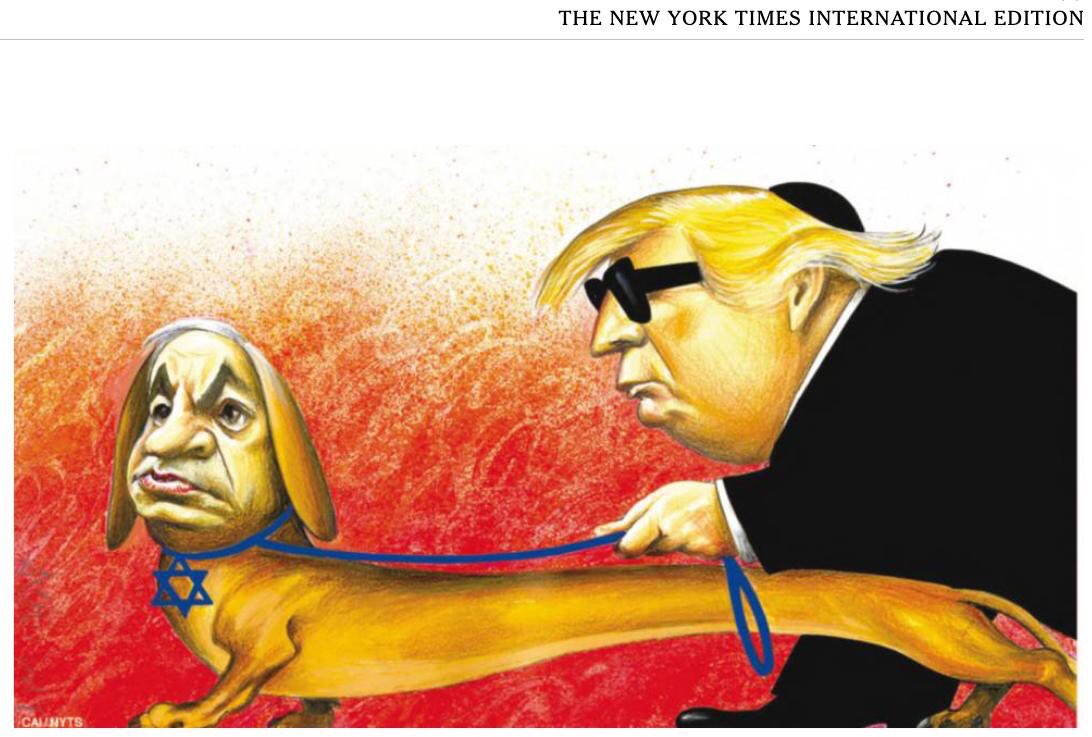 THE NY TIMES MORPHED INTO DER STURMER SO GRADUALLY I HARDLY NOTICED
 Antisemitism is alive and thriving, not just with Democrats in Congress, but on the pages of the Liberal Bible: THE NEW YORK TIMES.
There isn't just one problem with this cartoon. There are numerous problems. Problem one is putting a yarmulke on the US President in a negative way. What is being said there? That he is secretly a Jew. Then making him blind and having him led by Israel. That implies Israel controls US policy or controls America. Problem Two. Then they put a dog leash with a Star of David which is antisemitic in numerous ways. Problems three and four. You'd think that after the Holocaust any use of the Star of David would automatically raise questions in a news room. But no. Then they put the Israeli Prime Minister's face on a dog. On a dog. Problem number five.





So this cartoon wasn't just mildly antisemitic. It wasn't like "whoops," it was deeply antisemitic. The New York Times acknowledges this in a kind of pathetic way. They admitted that the cartoon "included antisemitic tropes." Then they note "the image was offensive and it was an error of judgement to publish it." That's not enough. An error of judgement would imply that it was just a kind of mistake. "tropes" would imply that to some people it is antisemitic, but it's not clear as day.





This is clear as day. This isn't like some story of unclear antisemitism. This isn't a dog whistle. This is a dog. This is antisemitic on numerous levels. It's time to say no more. It's time to say "they shall not pass." This should be a defining moment. It is a defining moment because one of America's most prestigious newspapers did this, not some small newspaper somewhere. That it was the International edition doesn't make it any less harmful. In fact it shows America's face to the world and gives a quiet signal to other anti-Semites. How can we demand that there be zero tolerance for antisemitism and antisemitic tropes when this happens?





People must speak up against the cartoon fiasco and demand a real accounting and also demand a real conversation. Not another set of excuses where we all pretend it's not clearly antisemitism, and it's not clearly an attack on Jews and "dual loyalty." We need to hear contrition and explanations and the public should be included and the New York Times should listen to how harmful and offensive this was.
Read more »
Labels: anti-Trump media, Israel, Liberal Antisemitism, liberal fascism, Netanyahu, TimesLies
Friday, April 26, 2019
Thursday, April 25, 2019
Tuesday, April 23, 2019
Sunday, April 21, 2019
Bill Whittle: Notre Dame Fire: At Tremendous Gift to the French
Saturday, April 20, 2019
Friday, April 19, 2019
Thursday, April 18, 2019
Wednesday, April 17, 2019
Never Give In, Never, Never, Never
Tuesday, April 16, 2019
Trump Puts Democrats Between A Rock And A Hard Place On Illegal Immigration
Monday, April 15, 2019
Sunday, April 14, 2019
Saturday, April 13, 2019
Proof of spying
Some people did something
FBI, Trump Investigation Division
Friday, April 12, 2019
Thursday, April 11, 2019
As the world turns on the words of William Barr saying "Spy"
Wednesday, April 10, 2019
Tuesday, April 09, 2019
Friday, April 05, 2019
Thursday, April 04, 2019
Wednesday, April 03, 2019
DRUDGE on Creepy Joe